General Inquiries
Regular office hours are Monday to Thursday, 9:00am to 1:00pm. Please send all general inquiries to info@steinbachmennonite.ca.
Lee Hiebert
Lead Pastor
204-326-9773
lee@steinbachmennonite.ca
Full Bio
Born and raised in Western Canada, Lee was baptized at First Mennonite Church in Kelowna, BC. In his late 20s he moved to Manitoba to study at Canadian Mennonite University (CMU) where he met his wife Rachel. Lee and Rachel were married in 2012, and while earning his under-graduate degree in Biblical and Peace Studies, Lee was invited to accept a pastoral position at Sargent Avenue Mennonite Church. Following his graduation from CMU, Lee and Rachel moved to Elkhart, Indiana where Lee completed his Masters of Divinity at Anabaptist Mennonite Biblical Seminary.
With a wide range of experiences packed into several decades, Lee's goal is to "speak the message of grace and hope into the lives of people." While nurturing a leadership style based on accountability to God and the congregation, he believes that his role extends beyond church relationships. Opportunities to volunteer with Mennonite Disaster Service have nurtured his resolve to reach out to local and global neighbours and he looks forward to volunteering, connecting with the community, and sharing life with everyone he encounters. In his leisure hours, Lee enjoys spending time with his family, reading, visiting, and riding his motorcycle.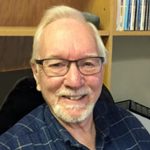 Daryl Climenhaga
Associate Pastor
204-326-9773
daryl@steinbachmennonite.ca
Full Bio
Daryl divides his time professionally between teaching "global studies" – the global church, focusing on the interplay of faith and culture – at Providence Seminary and pastoral ministry at SMC. He loves the mosaic of global cultural expressions of being the church, expressed in John's words: "I saw a multitude that no one could number, of all nations, kindreds, people, and tongues." At SMC, he enjoys preaching and the opportunity to be part of the congregation's mutual care. We are part of God's family in Steinbach, and that's good!
Personal interests include playing soccer and chess, listening to world music (especially from southern Africa), cooking curries and playing an endless game of Scrabble with Lois (his wife).
We're hiring!
We are currently looking for an Associate Pastor of Children and Youth Ministry. If you are interested, you can read the job description here.
---
Rental Inquiries
rentals@steinbachmennonite.ca
Due to increased church activity we are unable to accommodate rentals at this time.